Refreshed England hope for a stronger showing against robust India in T20I series
11 Mar, 2021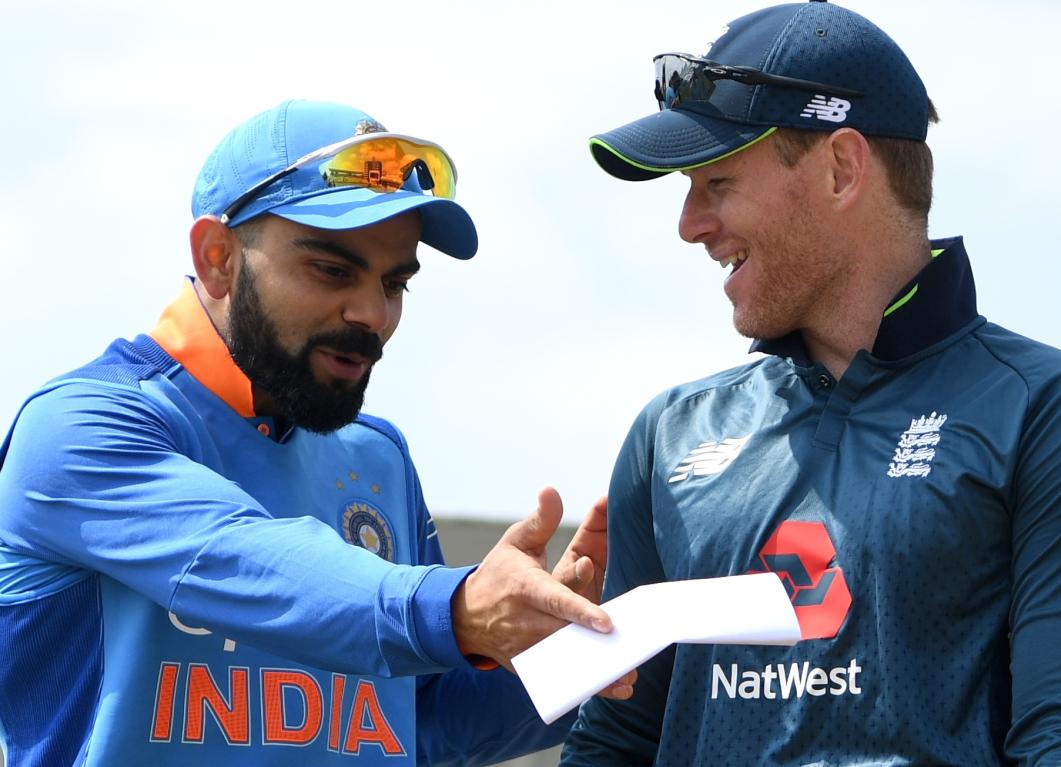 Refreshed England hope for a stronger showing against robust India in T20I series
Different squads, different format and a clean sheet for both teams to boot from. The 5-match T20I series, all the matches of which are scheduled to be played at the world's largest cricket stadium represents a chance for a few to fine-tune their skills, an audition for some, but a beginning of the path towards the ICC T20 World Cup all the same for everyone. While the disparity between the teams in the sub-continent became evident as the Test series rumbled on, the T20I series will be expected to be a much tighter contest - England with a squad full of specialists in the format, and the shortest format in itself covering up for players' shortcomings.
It is not often that a team touring the sub-continent will be expected to put up a stern challenge to the strong Indian team, but there is a quiet sense of expectation for the series to be a humdinger. A quick glance at England's potential top 6, and one will be convinced of the fact. Jonny Bairstow may have looked all at sea against spin in the Test series, but a return to a more favoured format would well transform him into the fearful batsman we know him to be. Add to that Jason Roy, and David Malan and England have a top 3 worth being wary of. To further emphasize on England's batting might, we haven't yet considered the next 3 who are likely to walk in - Skipper Eoin Morgan, Jos Buttler, and Ben Stokes.
While the English spinners were hardly a match to their Indian counterparts in the Test series, Adil Rashid and a potential spin partnership with Moeen Ali makes for an intriguing battle against the Indian batsmen. Sam Curran was one of the rare few bright spots for CSK in their IPL 2020 campaign, and his versatility and experience playing in the sub-continent will be a bonus for England. To add to that, their fast bowling battery includes Chris Jordon, a T20 specialist who can pump yorkers at will.
For India, Captain Kohli has by now confirmed that the team will open with Rohit Sharma and KL Rahul. While there will be no question marks over the No.3 position, the following 3 batting positions will foster intense competition. One of Suryakumar Yadav, who has received a much-deserved call-up, Ishaan Kishan who has been a massive positive over the past year, Shreyas Iyer, and Rishabh Pant will have to warm the bench. Considering Pant will be keeping wickets, and has been one of the stories in the longer format, it would be hard to imagine his place being under threat. That would likely mean Ishaan Kishan, a like-for-like for Pant being left out.
A return to the shortest format brings with it the return of the master of white-ball international cricket - Yuzvendra Chahal. A reunion of the RCB spinners is on the cards with the hugely impressive Washington Sundar being a possible number 8. A returning Bhuvneshwar Kumar will be one to watch closely given his absence from international cricket since December 2019. T Natarajan was one of the revelations of the tour down-under, and a place in the first T20I must not be up for debate if he is fit. If there is a place for a third seamer in the eleven, there could well be a case to be made for Navdeep Saini to be included.
While the pitches came under much scrutiny during the Test series, expect the pitches to be much more batsmen-friendly given the need to cater for the entertainment expected of the shortest format. England will be optimistic with a bunch of mostly fresh minds to turn over the hosts. But India in India will never be an easy proposition. An intriguing battle awaits over the next 9 days.
Match details:
Date and Time: 12th March 2021, 7:00 P.M. IST
Venue: Narendra Modi Stadium, Ahmedabad.
Likely XIs - 
India: Rohit Sharma, KL Rahul, Virat Kohli, Shreyas Iyer, Suryakumar Yadav, Rishabh Pant, Hardik Pandya, Washington Sundar, Bhuvneshwar Kumar, T Natarajan/Navdeep Saini, Yuzvendra Chahal.
England: Jason Roy, Jonny Bairstow, Dawid Malan, Eoin Morgan, Jos Buttler, Ben Stokes, Moeen Ali, Sam Curran, Adil Rashid, Chris Jordon, Mark Wood.