New Zealand manage to salvage a draw in a thrilling Test at Kanpur
30 Nov, 2021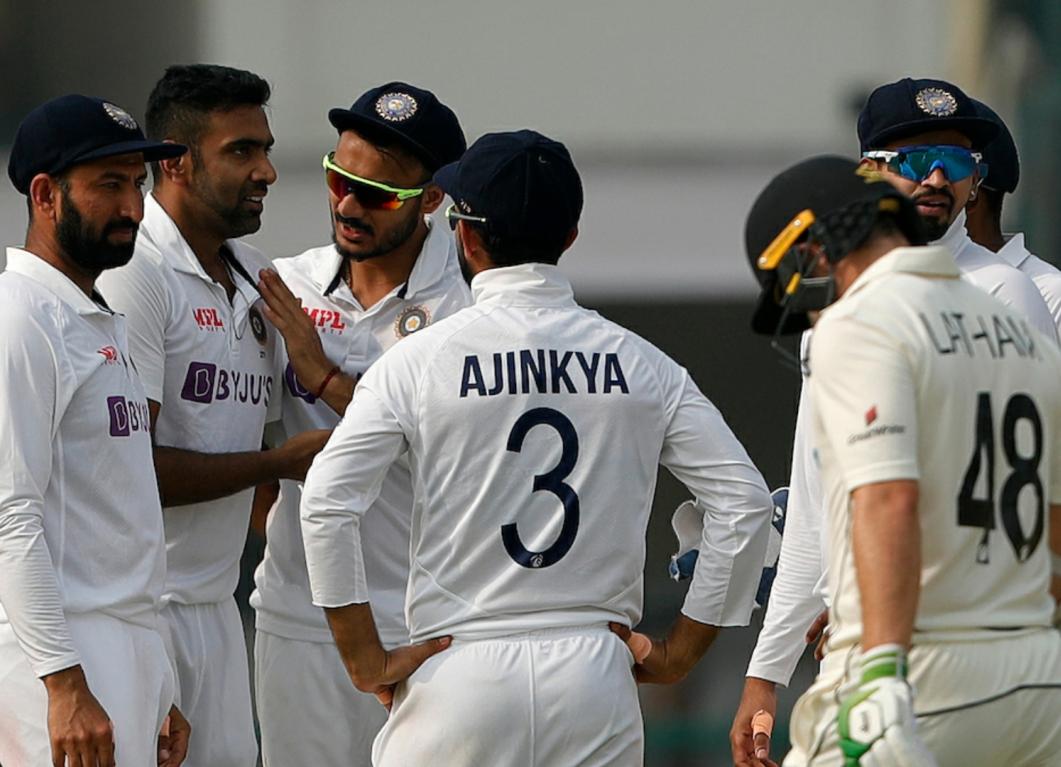 New Zealand manage to salvage a draw in a thrilling Test at Kanpur
Even though India won't be happy with the end result of the opening Test match of the two-match series, it was still a phenomenal display from the Men in Blue who staged two extraordinary turnarounds to claw back into the game.
Despite losing Mayank early, India was off to a stupendous start, thanks to some brilliance from Shubman Gill who bagged an impressive half-century before being removed after lunch on day one. From flying high in the opening session of the day, India were suddenly staring at a dark void with their middle-order falling like a house of cards.
Just when hopes were thinning around India, debutant Shreyas Iyer conjured a magical century perfectly supported by Ravindra Jadeja's persistent half-century to guide India to safety. New Zealand were off strongly, courtesy an incredible stand between Tom Latham and Will Young who piled up 151 for the opening stand.
However, Axar Patel reeled the Kiwis back in with a superlative fifer that saw India finish the first innings with a lead. Surprisingly, India started crumbling until Shreyas Iyer once again stitched a sublime half-century to arrest India's downward momentum. Wriddhimaan Saha chimed in with a half-century at the other end to help India declare with a healthy lead of 49 runs.
India secured a comfortable start as Ashwin struck early but Tom Latham and William Somerville put together an incredible stand that made India doubt their decision of declaration. However, once Umesh Yadav and Ashwin bagged Somerville and Latham respectively, it was easy picking for the Indians.
Despite a brilliant post-lunch session, India couldn't wrap up the show as bad light played spoilsport and Ajinkya Rahane was left disappointed as an almost confirmed victory slipped right through the fingers. 
Rahane who was leading India in the Test in the absence of Kohli, said in the post-match presentation about his timing of declaration, "Not really, we tried our best. They played really well. I think the way we came back in the second session was good. The fast bowlers too bowled really well. We wanted to get that partnership going, put some runs on board. Saha and Axar batted really well. Before that Shreyas and Ashwin's partnership was crucial. We wanted to bowl four overs yesterday and 90-95 in all." When asked about what was going on with the umpires in the middle towards the middle, he said, "It was about the light. I think the umpires made the right call regarding light."
Kane Williamson quoted in the post-match presentation, "It has been touch and go around this time throughout this Test. The Indian side is a formidable one, they were on top for the large part but we hung around. All three results were in play but we fought hard and showed the fight on the last day. Rachin is a top-order batter, but is not experienced in these conditions. The two fast players we played were outstanding, kept bowling long overs and kept us in the game. We know this Indian side is a very strong one in all departments, so we have to be at our best all the time. As a bowling attack, getting overs under the belt was good. We will play in Mumbai on a different surface, so we need to prepare differently."
Shreyas Iyer, who became the first Indian player to smash a century and a half-century on his Test debut, was adjudged as the man of the match. He cited, "It's a great feeling but winning the game would have been icing on the game. The pitch was intact but our bowlers showed great fight. My mindset was to play the sessions and play as many balls as possible. People say I am a very flamboyant player but the situation required me to play longer. So I played for the time. I am really proud the way we came out from a difficult position. I am really happy with the overall performance of the team. The pressure is always there, they had a great start and played out the first two sessions really well but we bounced back."
Even though India couldn't secure a victory, there were ample positives for the hosts to walk away with. The most significant pointer that India would be really happy with, is a solid display from Shreyas Iyer. The debutant could very well be the key to India's middle-order doldrums. India would also be delighted to see Jadeja getting back in shape with the cherry in his arms as he bagged a four-fer in the second innings. India will be playing the last Test of the series at Wankhede where Virat Kohli is surmised to lead the charge for India and the game is scheduled to start on 3rd December at 9:30 am.