India go 1-0 down after Mehidy Hasan steers the hosts to a win
05 Dec, 2022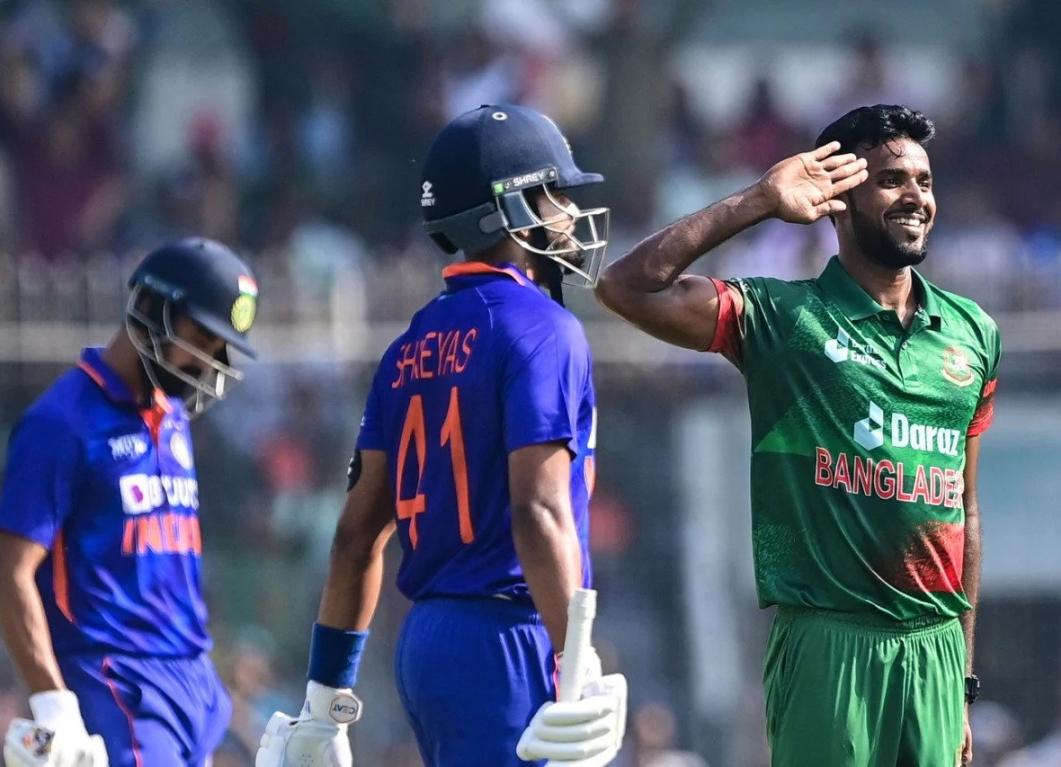 India go 1-0 down after Mehidy Hasan steers the hosts to a win
The Men in Blue will now have their task cut out after an unwanted result in the series opener despite being inches away from a fine win against Bangladesh. The visitors struggled with the bat before being rescued by KL Rahul who helped India to post a warring total. The bowlers did a phenomenal job of imposing the early shackles upon the Tigers but couldn't solidify the chokehold and ended up conceding the contest.
On a surface chipping in with its own tantrums, the Indians were put in to bat after Bangladesh won the toss. Rohit Sharma did get off the block early in the contest but couldn't sustain the momentum with India's top three returning to the pavilion in very quick succession. With India teetering along the fringes of a collapse, an experienced KL Rahul took over the reins and cautiously stabilized the Indian ship with some help from Shreyas Iyer.
The duo stitched an important stand of 43 runs before the latter departed and from thereon it was a single-handed act of resilience from KL Rahul as the LSG skipper took his chances, nudged and nurdled past a marauding Bangladeshi bowling unit who were out for blood. With almost all hope lost as the hosts kept on chipping away at the Indian wickets, Rahul opted to unlock his beast mode. He eventually fell for a well-constructed 73, helping India pile up 186.
Despite the numbers being on the lower side, the Indian bowlers pulled off a phenomenal job of imposing a handful of hefty manacles upon Bangladesh with Mohammed Siraj extending his brilliant form in the opening overs. Alongside the RCB pacer, Deepak Chahar started on a bedazzling note with the hosts struggling to get the wheels rolling.
With the runs hard to come by, the hosts used whatever loose balls came their way handsomely while the Indians ensured that they kept on bagging the necessary scalps, throwing the timely brakes in the Bangladeshi chase.
With the affair spicing up, the hosts saw a sudden collapse where they lost five of their wickets for just 8 runs, being reduced to 136 for 9 from 128 for 4 at one point in time. Mohammed Siraj and Kuldeep Sen dealt important blows while Shardul Thakur gave a glimpse of his menacing drift that bagged the important wicket of Mahmudullah.
Just when it felt that India will run away with the win emphatically, they encountered a hindrance called Mehidy Hasan who started fighting back and the Indian bowlers somehow started running short of ideas.
Despite all the huff and puff from the Men in Blue that left Bangladesh wobbling, the hosts somehow managed to turn the tide around in stunning fashion and the Indians were left with a very sour taste in their mouths. The Men in Blue will like to forget the opener and focus on the upcoming contest on Wednesday at the same venue.