RCB Breakfast Club – A Taste of Kerala
19 Aug, 2022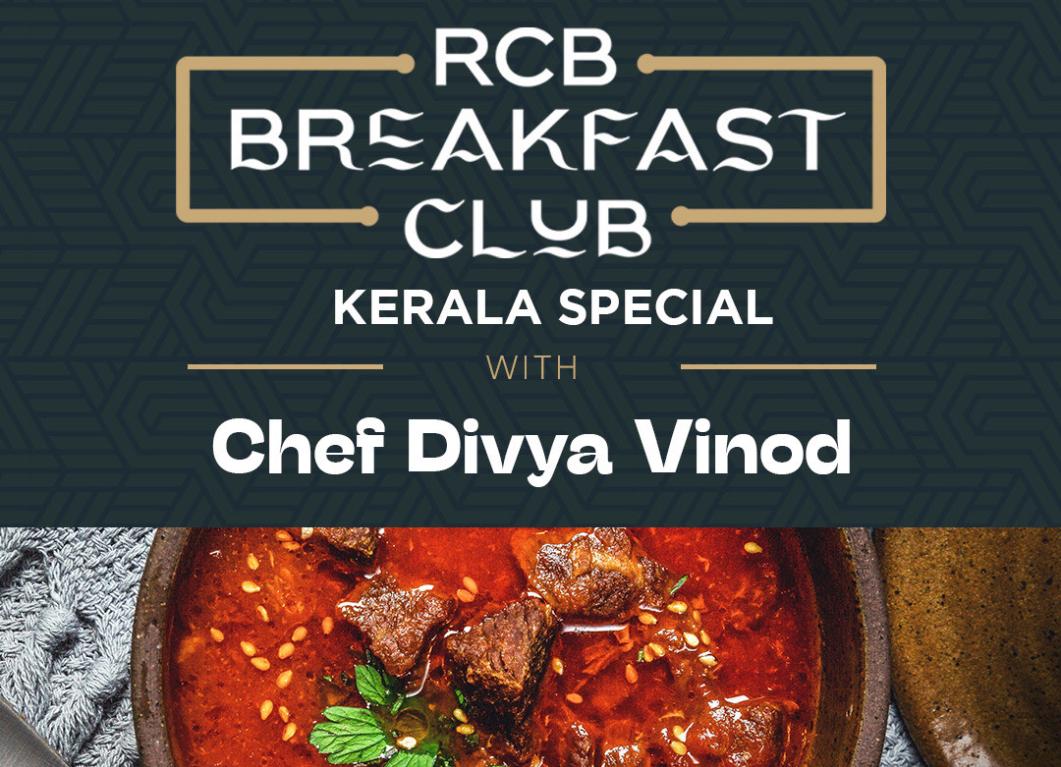 RCB Breakfast Club – A Taste of Kerala
If you're looking for the best breakfast spot in Bengaluru, look no further - RCB Café, Museum Road, is the place to be! Every Sunday from 8 AM onwards, our 'Breakfast Club' celebrates different cuisines, cultures and memories over a unique breakfast spread – the first of its kind in the city. 
This Sunday, we're excited to bring you culinary treasures from the kitchens of Kerala! Chef Divya Vinod takes over to celebrate the rich heritage and cuisine of God's own country. After moving to Bengaluru, she dearly missed her mother's food and the comforting flavours she grew up with. Fuelled by the desire to give her daughter healthy, home-cooked food, Divya began learning the basics of cooking. Soon, this evolved into a deep passion! Today, she loves creating wholesome meals with ingredients that have a special place in her heart. 
Check out her exclusive menu this Sunday, August 21st - 
Nadan Chicken Curry with Puttu – A traditional chicken curry made with succulent chicken chunks simmered in coconut milk and aromatic spices. Served with Puttu, made from steamed rice flour and grated coconut
Beef Roast with Rice Pathiri – An all-time favourite in Kerala! Slow-roasted beef in a spicy masala with bites of coconut and curry leaves. Served with Pathiri (soft rice pancakes).
Chemmeen Curry with Neipathiri – A spicy and delicious prawn curry that will transport you straight to the land of coconuts and seafood! Served with Neipathiri (deep-fried rice pancakes) 
 
Kadala Curry with Puttu – A popular curry made with black chickpeas, onions, herbs, coconut and warming spices. Traditionally served with Puttu.
 
Green Peas Masala with Neipathiri – Comfort food at its finest! Green peas in a creamy, cashew onion gravy, served with Neitpathiri. 
Egg Molee with Rice Pathiri - Rich coconut milk curry with egg, best paired with our Rice Pathiris. A warm and wholesome start to the day! 
21st August, Sunday | 8AM – 11:30AM
Call us today for reservations – 9892393230