It was pretty surreal: Kyle Jamieson on becoming the most expensive Kiwi Player at IPL Auction
19 Feb, 2021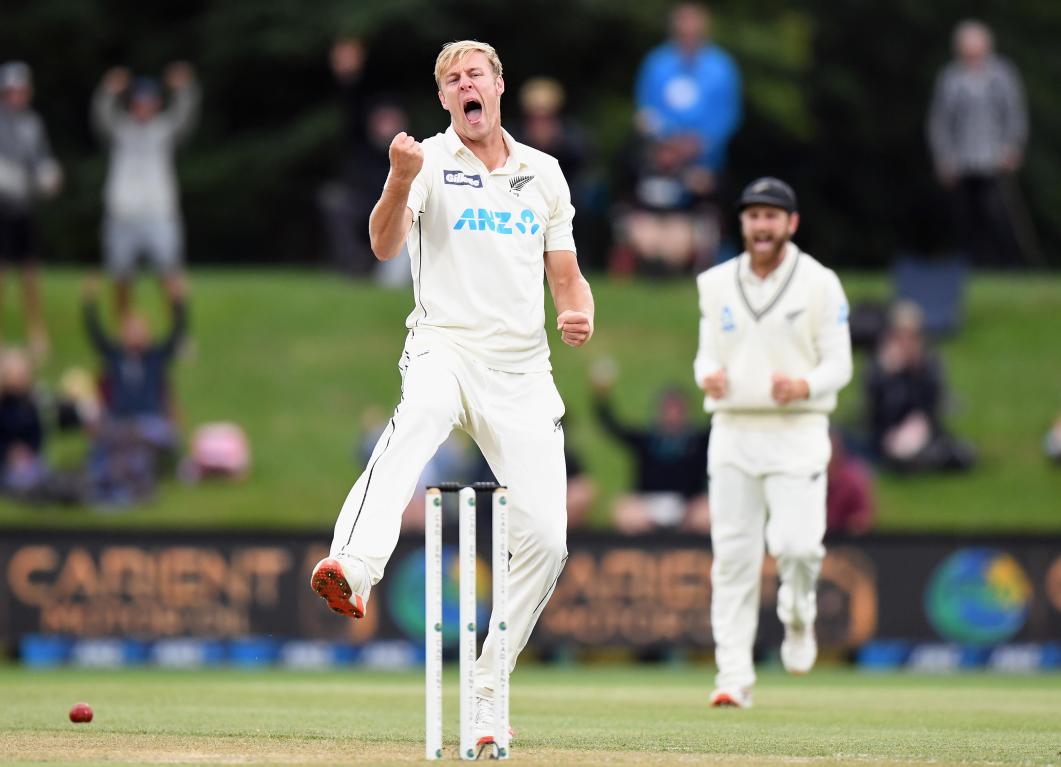 It was pretty surreal: Kyle Jamieson on becoming the most expensive Kiwi Player at IPL Auction
Fast bowlers consider very few things as important as recovery, and nothing is better than a good night's sleep for that.
So, while the world, particularly the Royal Challengers Bangalore, were waiting with bated breath for his name to pop at the auction, the Kiwi pacer preferred to go to bed.
Blame the time difference between New Zealand and India.
However, sometime post-midnight he could not resist and switched on the TV, just in time before his name was to be called at the auction. Within next few minutes he was richer than 15 crores. Jamieson called the event surreal.
"It was pretty surreal, really, and it's such a unique experience to watch yourself go through an auction like that in the early hours of the morning," Jamieson said. "And I think it's probably still trying to sink in a little bit and try to take in…
"Yeah, it was weird, there's no textbook to say how to approach that sort of stuff - that's probably how I've tried to take it. It's such a unique experience and it's trying to embrace the whole situation of it all as just try to, I guess, enjoy the moment."
"I actually called my partner and actually woke her up," Jamieson said. "She was asleep, and that was a pretty cool moment. Kind of sit back and there wasn't a whole lot of words to be spoken to be fair, but then called mum and dad - they were up as well. Did that and then turned the phone off and tried to get some sleep."
The Kiwi pacer was also pleased to receive a message from a former Kiwi bowler. Shane Bond had texted Jamieson just when the auction was on.
"I had a message from Shane Bond as it [auction] was going and he was sort of saying, 'How good is this!' I didn't actually know what the amount of money was and how that translated to New Zealand dollars," Jamieson said. "It was quite cool to share that moment with him and sort of ride that two or three minutes with him."
The 26-year-old is now the most expensive Kiwi ever at the IPL auctions and is getting ready to share the joy and banter with his teammates.
"Yeah, I think there will be a bit [of banter] from Boult, [Tim] Southee etc. So, no, it's all part of it, and there's a lot of banter thrown around in this group anyway and it's such an enjoyable place to be. It's all harmless and just good fun."
He may not have played a game in India before but Kyle realizes that there will be expectations and is also thrilled at the prospect of sharing the dressing room with "superstars" at RCB.
"I think it's such a special experience and I think [I'm] so fortunate to go to a team with superstars of the game like that," Jamieson said. "They've had success for such a long period of time - those guys…Just to rub shoulders with them and try to learn and grow as a cricketer is something that I'm relishing."
"To be fair, I don't think a whole lot changes to me," Jamieson said. "I accept that there will be expectations but that's been the case the whole time I've played. When you play your first one-day game, first Test, and different series, there's always expectation, but it's probably more externally than it is with me. For me, it's about how can I learn, how can I grow, and focusing on trying to do the job for the team at that time."
Come IPL 2021, there will be expectations from Jamieson – most of them really heightened.