When AB de Villiers conquered his demons of Stuart Broad
16 Sep, 2020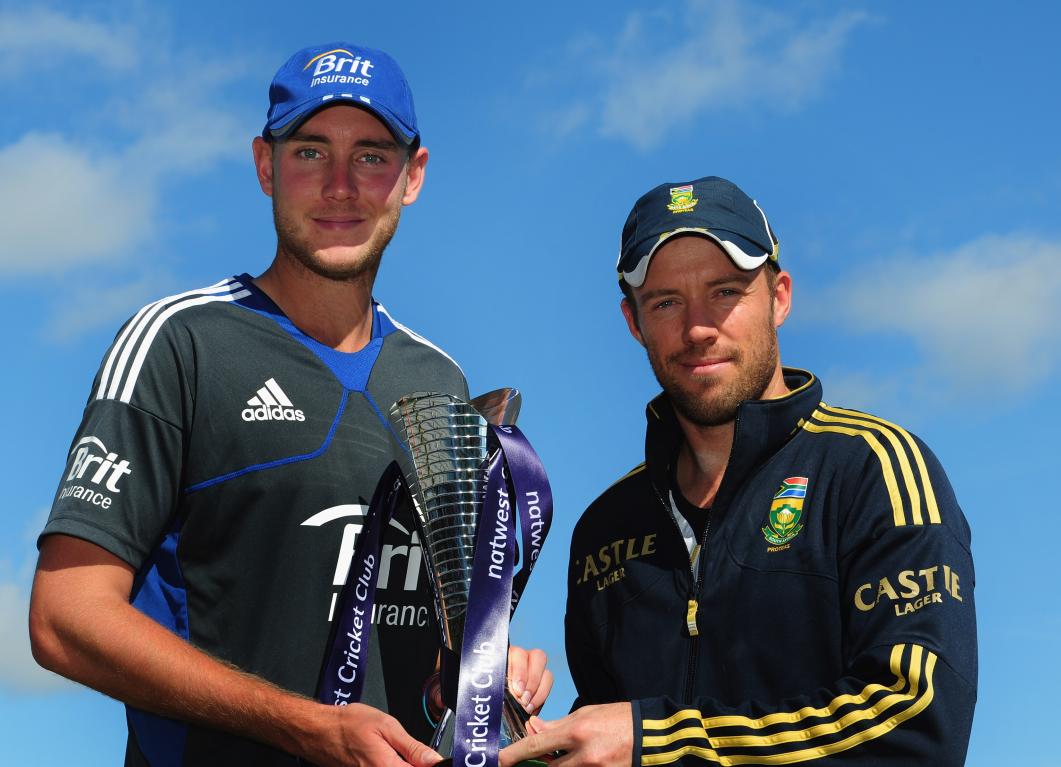 When AB de Villiers conquered his demons of Stuart Broad
Every Superman has his kryptonite. Not even the superman from South Africa, who might well have arrived from an alien planet and sends the occasional ball soaring in the skies as proof that he is still alive, is spared the harsh realities of international cricket. For a player who has been at the topmost level of cricket for as long as he has, adversities are nothing new. However, the stories of how AB de Villiers overcomes hurdles in his way makes for a fascinating read.
England had beaten a formidable South African Test side in the summer of 2015/16. AB de Villiers had managed only 210 runs in the 4-Test series. He had been dismissed thrice by his nemesis - Stuart Broad, two of them had been ducks. England again had taken down South Africa easily in the first two ODIs, winning them at a canter before South Africa had pulled a game back, one loss would have cost them the series.
With the series still on the line, South Africa found themselves under pressure again, chasing 263 to keep the series alive, AB de Villiers was in the middle of a pivotal run-chase. The time had come for him to face up to his adversary, Stuart Broad. De Villiers only needed one dot ball, and then, whack - a four and a six - he had set a precedent. He was not there to survive, he was there to take the game to the English bowlers. 
Recalling the innings, de Villiers talking to JP Duminy in an interview said, "Broad was completely over me in that Test series couple of weeks prior to the ODIs. I was definitely feeling pressure from his side, he was bowling with amazing skill throughout the series. He had me jumping all over the place, he was actually on top of me. I had to do something. I decided in the ODI series that I'm not going to allow that to happen."
Often stats can be misleading if taken out of context. A knock of 36 runs chasing 263 might sound meager, but with the series on the line and the English bowlers running in with their tails up, the knock AB de Villiers played bucked the trend of a timid South African approach and breathed new life into their pursuit. JP Duminy echoes that very fact, "We were playing against England at the Wanderers, and Stuart Broad was bowling and I was defending, just trying to get the partnership going. AB walks in, double steps him [Broad], and hits him straight over his head, like, in the first few balls, and I am like, 'Jeepers, OK!' And we come together, and I was like, 'Yo, Abraham! What happened there?'
"He's like, 'No! Need to make sure I am letting him know that I am here.' You talk about belief, we were speaking about Virat [Kohli], and I think that was the difference. He [de Villiers] certainly had this ability to transfer pressure in an amazing way and be consistent with it because a lot of us will try and do it. But the word he mentioned there [earlier] was commitment, that in those moments when he made decisions, there was no holding back, [whether it was] sweeping somebody or coming down the wicket, that commitment was fully there," adds Duminy.
South Africa went on to chase down the target with just one wicket left, thanks to another RCB player, Chris Morris' 38-ball 62. The Proteas would go on to win the final ODI as well and with it completely snare the series 3-2 from being 0-2 down. Perhaps without the belief de Villiers's knock breathed into the team, the series could well have been lost.